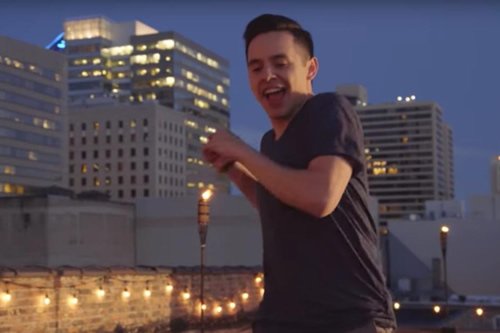 David Archuleta concert tonight at the Rogue Theatre, Grant Pass Oregon, CA Get tickets > HERE!

Description
In 1938, the year the Rogue first opened, the theatre was a beacon of the American Spirit. In its heyday, the Rogue offered Rogue Valley residents a place to escape from the daily struggle of life during the depression, a place to experience the wonders of the latest cinema technology and a place for the community to come together – for first dates, birthdays and community celebrations.

Today, the Theatre is still a special place in the hearts and minds of Rogue Valley citizens; special to both longtime residents and newcomers alike because it stands as a proud symbol of Southern Oregon's history, serves as a powerful catalyst for downtown economic revitalization and provides a venue for a diverse array of arts and cultural events that celebrate the human spirit, bringing people of all ages together to be entertained and inspired.

A preview of what awaits everyone tonight at a David Archuleta Concert!
credit Shannelle via Heather from KShasta Radio station personality.
David on Instagram Stories!!!!!!  
 Y'all ready for tonight?  I sure am! More of this & an incredible set list!  View View View!
Make sure to >Subscribe to David's Youtube Channel!!!!
Share, buy, gift David Archuleta's new EP "Orion" with 4 songs! Numb, Invincible, Say Me, and Up All Night!
Listen and Stream Orion on Spotify!
I'm going to keep his tour schedule here for easy access!!!
David posted schedule with hyperlinks on his  > facebook page!  Don't wait too long to get your tickets!   UPDATED > Upcoming Tour Events!
Jun 01
State Theatre
Red Bluff, CA

 

Tickets

 

 

 

Jun 03
Rogue Theatre
Grants Pass, OR

 

Tickets

 

 

 

Jun 06
Tower Theatre
Bend, OR

 

Tickets

 

 

 

Jun 07
CREST THEATER
Sacramento, CA

 

Tickets

 

 

 

Jun 09
Alberta Rose Theater
Portland, OR

 

Tickets

 

 

 

Jun 12
BING CROSBY THEATER
Spokane, WA

 

Tickets

 

 

 

Jun 13
Triple Door
Seattle, WA

 

Tickets

 

 

 

Jun 16
Portneuf Health Trust Amphitheatre
Pocatello, ID

 

Tickets

 

 

 

Jun 17
Kenley Amphitheatre
Layton, UT

 

Tickets

 

 

 

Jun 22
Troubadour
West Hollywood, CA

 

Tickets

 

 

 

Jun 23
Snowflake High School Auditorium
Snowflake, AZ

 

Tickets

 

 

 

Jun 24
David M. Player Center for the Arts
Safford, AZ

 

Tickets

 

 

 

Jun 28
Soiled Dove
Denver, CO

 

Tickets

 

 

 

Jul 01
Old Rock House
St Louis, MO

 

Tickets

 

 

 

Sep 23
DeJoria Center
Kamas, UT

 

Tickets